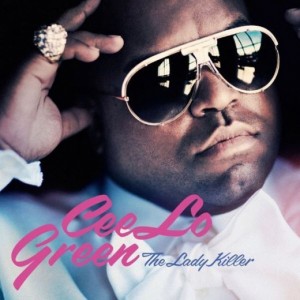 Originally published on BU Common Ground on January 13, 2011
The fickle nature of popular music never ceases to amaze me. Most recently, I have been stunned by the worldwide celebration of Cee Lo Green's "Fuck You" ("Forget You" is the radio edit).
First leaked on the web, the piece was released as a single in August 2010 to promote his November album The Lady Killer. The single peaked at #9 on the U.S. Billboard Charts, currently holds #1 on the U.K. Billboard Charts, and dominates radio stations throughout the U.S, Europe, Japan, and Australia. "Fuck You" has additionally been named TIME Magazine's "Song of the Year" and has garnered a Grammy Nomination for the same category, helping The Lady Killer acquire four additional Grammy nominations.
In the midst of this popularity, I find myself unable to escape Cee Lo. Toggling between radio stations has succumbed to frustrated channel surfing to escape incessant repetitions of the piece. Innumerable album covers featuring an aviator-clad Cee Lo sprawl across entire shelves at music stores. One can't even sit down to enjoy a relaxing, simple, episode of Glee without hearing a "Fuck You" remix. Emerging lightheaded from this dizzying Cee Lo domination, I am here now to ask: "Why?"
Granted, Cee Lo has produced some quality music in the past. Partnered with the fantastic producer,
Danger Mouse

,
Green released St. Elsewhere and the single "Crazy" in 2006 under the pseudonym "Gnarls Barkley". Green's silky voice paired with the flowing and shapeless backing strings was an innovative combination that earned the duo two Grammys and Rolling Stone's prestigious "Song of the Decade" award.
Cee Lo, what has happened? While catchy, this new piece is terribly uninspired. While innumerable critics and teenage fans alike have been praising "Fuck You" as cutting edge, it is completely derivative. Have we forgotten the 1960s and the 1970s? The opening piano on Green's track sounds strikingly similar to that on The Foundation's "Build Me Up Buttercup" and the female backing vocals on "Fuck You" could have been lifted from any Supremes record. Cee Lo has clearly listened to Motown his entire life – why don't most recognize it too?
The lyrics fail to compensate when the music falls short. There is a complete lack of poetry; instead of utilizing animated adjectives to articulate his emotions, he unimaginatively confronts his gold-digger heartbreaker by simply swearing at her. Additionally, in trying to maintain a cool and biting cadence, Green doesn't even sound distraught.
Song of the year – really? Is this the best music can do? There are multiple groundbreaking artists who are continually snubbed in attention, sales, and awards. If this kind of imitative and lyrically-pedestrian music continues to capture listeners in rapture, I fear the demise of creativity.
Jog your memory with these hits, music that combines catchy hooks with actual emotion and inventive poetry. Hopefully it will bring you back to a time when the christening title of "music" was a little more sacred.