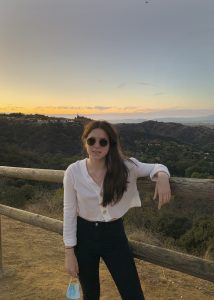 This is Michela (I think).
Born into a Italian-Irish-American family, Michela was destined to be a multi-hyphenate. Now a writer-director, Michela makes her parents both proud and furious by working far from home.
Michela works in the comedy and dramedy space in LA. She got her start in short-form, helming dozens of projects for clients like Broadway Video, Adult Swim, and Funny or Die.
Nowadays, Michela has shifted her focus to long-form. She directs HBO Max's talkback series, "MaxPop Reacts," and she's developed a number of half-hour projects, including Bury The Lede, which was a recent Script-of-the-Month on The Black List.